We're expecting great things from these new games coming to PS4, Xbox One, Nintendo Switch, and PC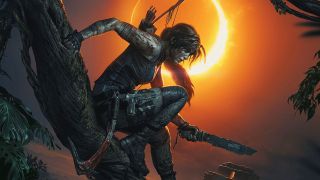 The rest of the year is looking ridiculously stacked when it comes to the best new games of 2018. You've got long-awaited sequels to legendary games, like Red Dead Redemption 2, Super Smash Bros. for Switch, and Kingdom Hearts 3, bumping up against excitingly fresh ideas like Indivisible, Ooblets, and Dreams. Whatever you're playing on, from PS4 to gaming laptop, there are plenty of highly anticipated titles set to debut in the months (and years) to come. So we've gone ahead and started collecting the standouts for your viewing pleasure, updated weekly with new additions. Browse our list (ordered by release date) and see what you need to start saving up for ASAP – then be sure to let us know in the comments which games have your rapt attention. Strange Brigade and A Plague Tale have just been added to the lineup, and Shadow of the Tomb Raider has been updated, so check 'em out!e
Pillars of Eternity 2: Deadfire
Platform(s): PS4, Xbox One, Switch, PC
Release date: May 8, 2018
Fans of old-school, isometric RPG adventures already know and love Pillars of Eternity, which echoes PC classics like Baldur's Gate or Planescape: Torment (and stands as one of the most successful and well-received games in crowdfunding history). While this sequel will undoubtedly deliver copious character customization and plenty of dark, treacherous dungeons, Obsidian Entertainment opted to make things a bit more nautical for Deadfire. Your adventuring party now doubles as a ship crew, exploring tropical beaches, charting open waters, and even fighting off attackers who board your vessel. Pillars of Eternity 2: Deadfire should offer the same degree of depth and engrossing narrative as the first, with some Pirates of the Caribbean-esque flair mixed in – and if you put dozens of hours into the first game, you'll be happy to know that your decisions throughout the story will have an impact in Deadfire.
State of Decay 2
Platform(s): Xbox One, PC
Release date: May 22, 2018
If The Walking Dead has taught us anything, it's that forging bonds between survivors and building up a community is essential to surviving the zombie apocalypse. State of Decay 2 takes those values to heart with co-op for up to four players, provided you all agree to work together instead of backstabbing one another for precious supplies. To build up your customizable encampment, you'll need to scavenge on foot or four wheels, splattering the skulls of countless undead along the way. And if someone's unfortunate enough to get bitten, their allies will have the tough choice between curing them with a limited supply of medicine, or ending their impending suffering with a bullet to the brain. shooting games
Detroit: Become Human
Platform(s): PS4
Release date: May 25, 2018
As is the trend nowadays, Detroit: Become Human is a choice-driven adventure revolving around androids achieving sentience. Remember the Kara tech demo Sony showed off years ago? She's back as one of three playable androids in a futuristic Detroit, along with detective 'bot Connor and the aspiring revolutionary Marcus. It's a game of staggering ambition: it took David Cage two years to write the script, and hundreds of actors have done mo-cap work for it.
Agony
 Platform(s): PS4, Xbox One, PC
Release date: May 29, 2018
There's a pretty easy way to figure out if the first-person horror of Agony is for you: can you stomach the sight of virtual babies being smashed into bloody stumps? If you answered 'yes', then you're just twisted enough to enjoy this harrowing trip through Hell itself. You're a tortured soul seeking out the Red Goddess, the so-called ruler of the underworld, in a desperate bid to escape eternal suffering. To do so, you'll need to fearfully sneak past demons in your meek human form as a feeble Martyr – though later on, you can possess them and use their terrible powers to your own ends.
Vampyr
Platform(s): PS4, Xbox One, PC
Release date: June 5, 2018
The last great vampire-centric game was Vampire The Masquerade: Bloodlines, and that cult classic debuted way back in 2004 – but soon enough, Vampyr should sate our bloodlust and fill that vampiric void. Made the eclectic studio Dontnod, developers of Remember Me and Life is Strange, Vampyr casts you as the recently fanged Jonathan Reid in the Victorian-style streets of 1918 London. You have the option of roleplaying Reid as London's savior, using the doctor's powers of healing to find a cure for a deadly flu epidemic, or a sinner, hunting human prey under cover of night and serving only your eternal thirst. Hopefully, Vampyr will play like a Dishonored game starring Dracula.
The Crew 2
 Platform(s): PS4, Xbox One, PC
Release date: June 29, 2018
Despite strong sales, Ubisoft's open-world racer The Crew didn't seem to make much of an impact in 2015 – but there's a dedicated group of players still roaming its virtual USA roadways to this day. Hopefully The Crew 2 will entice them to make the jump and bring in droves of new racers with its expanded scope: now you can get behind the wheel of boats and planes in addition to the first game's souped-up luxury cars and off-roading rides. You'll be speeding around gigantic slices of world-famous American cities like Las Vegas and New York, taking on plenty of cooperative driving missions as you bond with your crewmates across land, sea, and air. car games
Octopath Traveler
Platform(s): Switch
Release date: July 13, 2018
In a rare case of an absurd working title becoming the actual game name, Octopath Traveler is a new JRPG from Square Enix that puts major emphasis on dedicated role-playing. You must choose from one of eight unique heroes when starting your quest, each with their own personality, fighting style, and most importantly, distinct commands when interacting with NPCs. Are you the kind of player who wants to challenge everyone you see to a feat of strength, or someone who wants to charm folks with your provocative dancing? Your experience of the world all comes down to your chosen hero, but no matter who you pick, there's plenty to explore as you take in the lavish, 16-bit-meets-HD sights and engage in nuanced turn-based battles.
World of Warcraft: Battle for Azeroth
Platform(s): PC
Release date: August 14, 2018
Blizzard's touchstone MMO is still going strong after almost 14 years worth of content, and its seventh expansion, Battle for Azeroth, is something of a throwback to the classic conflicts between the Alliance and Horde factions that trace back through Warcraft history. Leaders on both sides have risen, fallen, and been replaced, and now things are gearing up for what could very well be the turning point after years of animosity. Besides the potentially faction-altering impact of this expansion's plot, its biggest feature is the addition of Allied Races – NPC races you can earn the right to play as – and two massive new zones, Kul Tiras and Zandalar. Of course, there will also be a bevy of fresh dungeons and raids to tackle as you work your way to the raised level cap of 120 and strive to get the latest must-have gear.
Strange Brigade
Platform(s): PS4, Xbox One, PC
Release date: August 28, 2018
One look at Strange Brigade, and you'll wonder why nobody thought to make a co-op monster shooter set in the 1930s sooner, because you need it in your life immediately. As one of four intrepid adventures braving the heat and sand of early 20th century Egypt, you'll have to fend off hordes of mummies, zombies, animated statues, hulking minotaurs, and all manner of supernatural creatures that want you dead. Each Indiana Jones-esque environment is loaded with secrets to seek out, and traps you can use against your rotting enemies. Strange Brigade comes to us from Rebellion, makers of the cult favorite Sniper Elite: Nazi Zombie Army trilogy, so you can bet it'll deliver plenty of intentionally campy, mummy-mutilating fun.shooting games
Hollow Knight
Platform(s): Switch (out now on PC)
Release date: Q2 2018
Hollow Knight is a modern Metroidvania masterpiece – but if you don't game on PC, you might've missed it in 2017. Fortunately, Switch owners will be getting a portable version of this lavishly illustrated, beautifully crafted journey later this year. You play as a diminutive warrior wielding a sharpened nail, exploring the treacherous nooks and crannies of the expansive Hallownest, an insect kingdom that's fallen into ominous ruin. This 2D platformer has it all: gripping combat, phenomenal hand-drawn artwork, enchanting music, rich lore, and a world full of fascinating NPCs and enemy designs. You'll wonder why you didn't do everything in your power to play it sooner.
Wargroove
Platform(s): Switch, Xbox One, PC
Release date: Q2 2018
It seems Nintendo isn't about to revive Advance Wars any time soon; thank goodness developer Chucklefish stepped up to the plate to bring back turn-based strategy featuring delightful GBA-style sprites. The overworld map and battle animations perfectly mimic the charming aesthetic of the Advance Wars series, set in a high fantasy world full of knights, dragons, skeleton dogs, and witches. As one of 12 unique commanders, you'll wage war over land, sea, and air to establish dominance over the map, one little square space at a time. With online and local multiplayer for up to four players, custom map creation, and loads of adorable unit types, Wargroove's got everything an Advance Wars fan could ask for.
Crackdown 3
Platform(s): Xbox One, PC
Release date: Spring 2018
In Crackdown 3 you're a super-cop in an open-world city, using your powers to fight crime and smash the whole place up in the process. While there's still a story campaign to tackle, the online co-op for up to four players is where it's at, letting you and your Agency buddies tear up this futuristic metropolis in chaotic style. You'll be leaping between buildings using your jumpjets in one moment, then raining down high-tech bazooka missiles onto any poor criminals the next. The addition of Terry Crews as a playable character is the perfect cherry atop this city-obliterating sundae.
We Happy Few
Platform(s): PS4, Xbox One, PC
Release date: Summer 2018
We Happy Few is practically a must-play based on the concept alone, which somehow manages to blend a BioShock-style society of deranged drug addicts and the kitschy 1960s whimsy of Austin Powers into one delightfully creepy survival game. You play as one of several residents of the fictitious English city of Wellington Wells, navigating in first-person through a society where residents are forced to take a daily dose of the hallucinogenic pill known as Joy. You've refused to take your medicine and have been labeled a kill-on-sight Downer, forced to flee from the mind-altered citizens and coppers while crafting and scavenging for anything that might help you survive. All the while, you're taunted and oppressed by Uncle Jack, a live-action TV host who's like a sinister, pill-pushing Mr. Rogers.
Metro Exodus
Platform(s): PS4, Xbox One, PC
Release date: Fall 2018
Metro Exodus is the third game in this criminally underappreciated post-apocalyptic FPS series, transporting you to the irradiated ruins of modern civilization, now teeming with mutated animals, which somehow still manage to look beautiful (in a bleak, desolate kind of way). You play as a hardened survivor slowly making your way across Russia during a harsh nuclear winter, fending off gigantic rats in abandoned subway tunnels and scavenging for supplies topside. Just be sure to keep an eye out for any radioactive bears that could get the jump on you.
Skull and Bones
Platform(s): PS4, Xbox One, PC
Release date: Fall 2018
Sea of Thieves isn't the only open-world pirate game out there – Ubisoft's Skull and Bones is also setting sail this year, with a much more realistic take on pirate battles on the high seas. Skull and Bones is basically Assassin's Creed Black Flag without the Assassins, as it's being developed by much of the same team behind Black Flag, and promises a sweeping solo campaign as you vie for control over the 18th-century waters in the Indian Ocean. But the real focus looks to be player-versus-player ship skirmishes online, where each player controls their very own warship in team-based fleet battles. There will also be supernatural elements amidst all the cannon-fire, like the colossal tentacles of a terrifying kraken lurking in the deep.
Shenmue 3
 Platform(s): PS4, PC
Release date: Second half of 2018
The Shenmue series was never a huge commercial success, but thanks in part to Kickstarter and thousands of fans' hard-earned dollars (plus some generous funding from Sony), the project is fully underway. In Shenmue 3, you'll take the role of a martial artist named Ryo Hazuki as he attempts to uncover who is responsible for his father's murder. The game promises to have gameplay reminiscent of the previous titles, enabling players to take on enemies in hand-to-hand combat, upgrade combat abilities, and explore a living world full of villages, shops, and an active populous.
Spider-Man
 Platform(s): PS4
Release date: September 7, 2018
This open-world superhero game should be an interesting departure for Insomniac Games, the studio most famous for the Ratchet & Clank series. You'll be web-swinging between buildings and beating up thugs as your friendly neighborhood Spider-Man, dealing with the likes of Kingpin and Mister Negative in your efforts to keep the peace in the Big Apple. This game isn't tied to any specific comic or movie, so the creators aren't bound by an existing storyline; here's to hoping we don't have to see any origin stories play out for the umpteenth time.
Shadow of the Tomb Raider
Platform(s): PS4, Xbox One, PC
Release date: September 14, 2018
Lara Croft will be struggling to survive once more in Shadow of the Tomb Raider, the third and final game in the reboot trilogy following Lara's origins. There's a strong emphasis on stealth this time around, as Lara is greatly outnumbered by Trinity forces in the thick of a South American jungle. She also just so happens to have triggered a li'l ol' apocalypse thanks to her somewhat selfish actions, which seems out of step with her character; hopefully this hardened iteration of Lara will eventually win us over like in the previous games.
Spyro Reignited Trilogy
Platform(s): PS4, Xbox One
Release date: September 21, 2018
Not to be outdone by the revival of Sony's other would-be mascot in Crash Bandicoot N. Sane Trilogy, everyone's favorite purple dragon Spyro is getting his very own three-pack remaster. Spyro Reignited Trilogy features the first three games in the series (i.e. all the best ones) rebuilt from the ground up with wildly improved Unreal Engine 4 visuals and a refined control scheme. We'd be shocked if this oft-requested trilogy didn't eventually make its way to Nintendo Switch as well, so for anyone who missed them back in 1998, Reignited Trilogy will be  a great way to enjoy a beloved slice of 3D platforming history.
Call of Duty: Black Ops 4
Platform(s): PS4, Xbox One, PC
Release date: October 12, 2018
Treyarch is back for another Call of Duty sequel, and will be soldiering on with the tried-and-true Black Ops series featuring near-future warfare. We won't know much about BO4 itself until a massive info drop on May 17, though it looks like Nintendo Switch is getting snubbed for some reason. Until the full reveal, you can have a chuckle at the hilariously unhype logo reveal and the fact that 'IIII' is being used as if in defiance of traditional Roman numerals.
Red Dead Redemption 2
Platform(s): PS4, Xbox One
Release date: October 26, 2018
Red Dead Redemption 2 has a lot to live up to, so it's reasonable that Rockstar Games wanted a generous amount of time to get this open-world, Wild West sequel just right. Set before the first RDR, you're filling the cowboy boots of Arthur Morgan, an outlaw in the employ of familiar villain Dutch van der Linde. Morgan seems to be a rougher, thornier character compared to the stoic John Marston – but we'll surely get to know him better across dozens of hours spent moseying across quaint plains, hunting for wild animals (now with a new bow and arrow combo!) in verdant mountain regions, and carrying out many a high-stakes train heist.